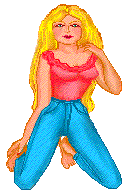 Is Your Child a Teen Pregnancy Risk?

There are several
things parents can
can do to reduce the
chance of their children
becoming a teen 
pregnancy statistic.

The latest research
shows 5 techniques 
to lower your children's
risk.  These studies have
been summarized and
put in pamphlet form.

Fully documented, this
pamphlet is now available
to parents, youth leaders,
and teens.  

SEND ONE DOLLAR 
(to offset the cost of
printing and paper)
and a 
SELF ADDRESSED
STAMPED ENVELOPE
to the address on this
page and the pamphlet will be
on its way to your home.

Researched and written
by a noted child advocate,
this pamphlet may be just 
the help you need to 
prevent teen pregnancy.
No parent, young person,
or youth leader should be
without it!  It is perfect as a
discussion starter or a
Sunday School lesson.


TEEN PREGNANCY: A Parents Guide to Prevention

---Over 1 Million Teens become
   Pregnant Every Year.

---Approximately 3 million teens
   are infected with sexually
   transmitted diseases each
   year.

---One in 4 adolescents will 
   contract a sexually
   transmitted disease before
   graduating from high 
   school.

---America has the highest
   teen pregnancy rate of any
   developed country in the
   world.  Our rate is double
   that of Canada or Great
   Britain, and 10 times that
   of Japan.

---Research shows that sex
   education programs alone
   will not prevent teen
   pregnancy.

BUT THERE IS HOPE!
Order the pamphlet
Teen Pregnancy: 
A Parents Guide to Prevention
and see how to protect
your children and youth.

Dr. J.W. Scott
jwscott@runet.edu
2704 Bobwhite Drive
Roanoke, VA 24018
United States

Concerned Parents and Interested Youth have Visited this Page
times. Your friends need to drop by too!